5 Treatments to Avoid Neck and Shoulder Pain
on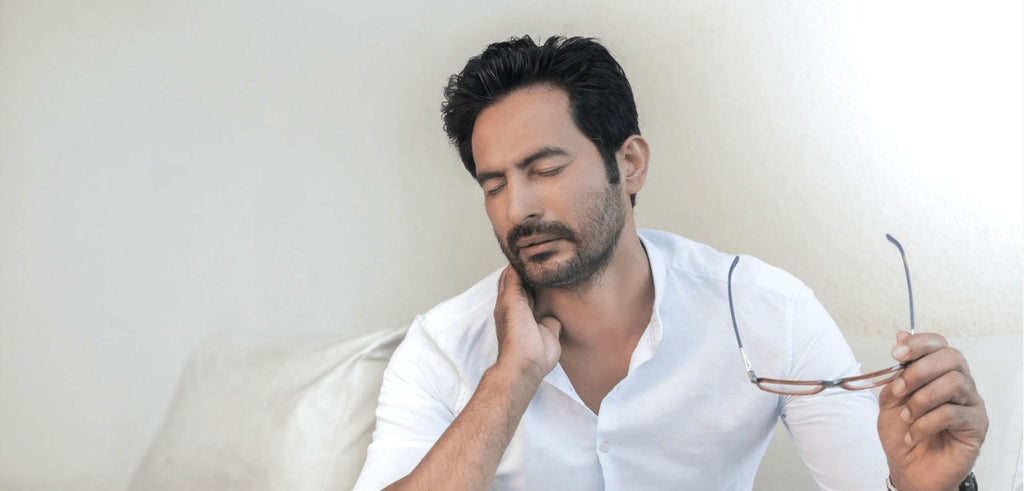 Discomfort in your neck or a pain in the neck? If the discomfort you feel in your neck is a pain in the neck, you're far from alone. Neck pain is very common with nearly one in  every three individuals affected by it once a year. According to the National Institute of Health, Women are affected more often than men, and while the symptoms tend to go away on their own, they may reoccur. Unfortunately, in about 1 in 10 people with recurring neck pain, the pain becomes chronic.
Frequent neck pain is an unhappy reality for many people. If you regularly suffer from sore neck muscles, then you know how unpleasant it can be. There are a host of causes that can contribute to neck pain, but there are even more ways to treat neck pain—right in your home. 
Learn more about the causes of sore neck muscles, and how to treat it with our handy tips below.
Here are easy tips that will go a long way in helping your neck and back feel better at work.
1. Practice good posture
2. Adjust monitor height and keyboard placement
3. Limit phone screen use
4. Walk around
Treatments to Avoid Neck and Shoulder Pain
There are many at-home treatments you can use to alleviate pain for your sore neck muscles. Even pinched nerves often get better with proper rest and care despite the intense pain that is involved. Here are a few different at-home treatments you can do to ease your sore neck muscles:
1. NECK SUPPORT
Sometimes sore neck muscles just need a little extra support so they can heal. In these instances, the use of a cervical collar to stabilize your neck can give your muscles a chance to rest and recover.
2. GENTLE EXERCISE
Low-impact exercises like stretching and walking improve blood circulation throughout your body and help you recover from injuries more quickly. You should avoid activities like weightlifting that could aggravate your sore neck muscles, or activities that are high-impact like running that put additional stress on your neck.
3. STRETCHING
Once you've gotten some rest, doing some gentle stretching can really help your neck heal and regain some of your lost mobility. Focus on simple, slow stretches that won't aggravate your sore neck muscles, like gently turning your head from side to side, or up and down. Remember to take it slow and don't rush your stretches.
4. REST
One of the best tips to help heal sore neck muscles is to take time to rest. While you don't want to rest more than a day or two, getting some good sleep and rest will help your sore neck muscles recover faster.  
5. MICROWAVABLE NECK WRAP
Another way to relieve sore neck muscles is to use a microwavable neck wrap to apply heat to the area. The heat from a heated neck wrap increases circulation to sore neck muscles and can soothe muscle pain.
Kanyoga's Anti-Stress Comfort Wrap is perfect for relaxation and rejuvenation. They are filled with tourmaline beads and can be used in the microwave and refrigerator. Perfect to soothe, relieve pain of the neck and back muscles. Can also be used for any part of the body. These can be used warm, cold  or at room temperature. 
Features: 
Size: 65 L x 10 W cm, Weight: 1.100 kg, Color: Multi (floral print)

Filling: 1 kg of Tourmaline beads

Can be used in microwave and refrigerator

Made of 100% cotton fabric

Removable washable cover made of cotton  
Directions: 
Heat: Place in microwave and heat on high for maximum of 1 min. 

Cooling: Place in refrigerator until chilled to desired temperature
The Kanyoga's Anti-Stress Comfort Wrap offers excellent relief for sore neck muscles using moist heat therapy for deeper muscle penetration. There are no cords to fuss with and you can add additional pressure by pulling on the hand straps of your heated neck wrap. Recover faster and reduce pain as you use a heated neck wrap to help your sore neck muscles feel better.