Easy Ways To Show Love To Your Siblings
on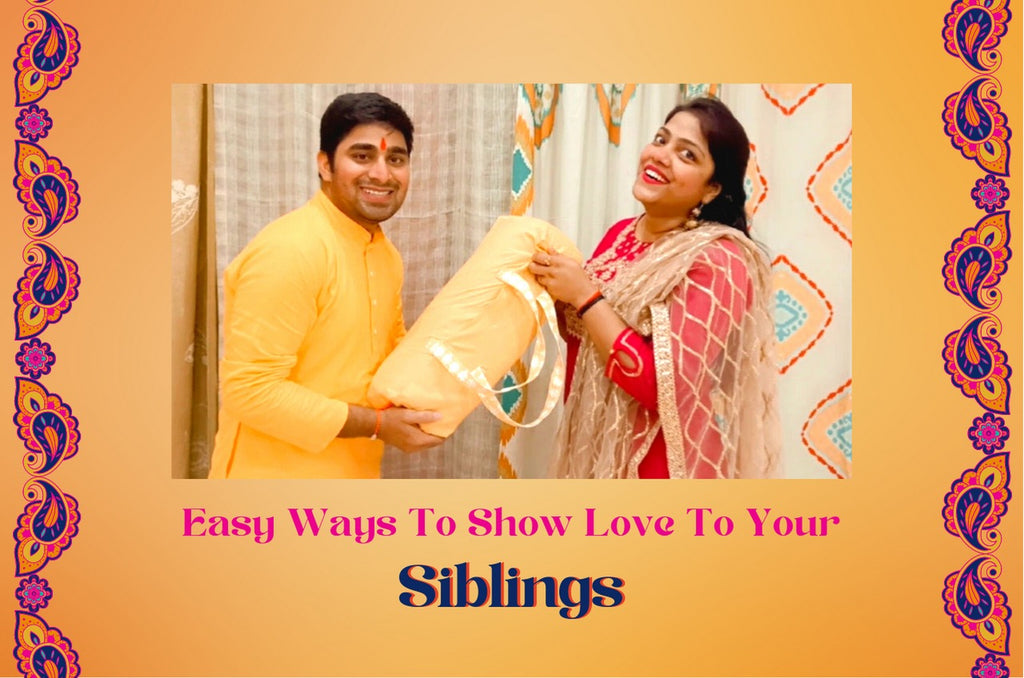 Raksha Bandhan is around the corner and thus we want to engage in the habit of doing something for our brothers and sisters. You love your siblings, and they love you. That's why a lot of people make the effort to get together for holidays like Raksha Bandhan, where familial love and appreciation are given! Being a good sibling can sometimes be tough to figure out, but luckily, we have a few ways that always work! Showing care towards your siblings can be easily done in the ways we have listed.
Share funny childhood stories.
Childhood stories are priceless! Reflect on the memories you have of your childhood. Are there any moments you wish you had told your sibling about? Perhaps you both got into trouble for something? What do you remember most about your childhood with them? What are your best memories? Bad memories? You can reflect upon your experiences and talk to your sibling about them. They may not be aware of some of the things you were upto. Or they may be amazed you got away with something! Sharing your stories can be a great way to bond with your sibling.
Do an activity together that your sibling enjoys doing.
The best way to bond with a sibling is to do an activity together that both of you enjoy doing. It's important to have family activities like these, especially when you are a teenager. You could do many things to build that bond, such as going to the zoo or helping out with a cause you both love. By achieving that bond, you know you can count on each other when you're older and that's priceless. So, go ahead and get your sibling to do activities you both like and make memories that you'll never forget!
 

Make Your sibling your friend
You and your sibling share a special bond. You've been through a lot together, and your sibling is likely your best friend. The way you act around your sibling can make a big difference in how they perceive you, so don't be another careless person who lets them down. With that said, here are some tips on how to be a good friend to your sibling. 
Gift your siblings on special occasions
Giving gifts is great because it shows people that you're thinking about them and it's also a great way to be remembered! For example, if you have a sibling who loves to read, you could get them a Kindle or a gift card from their favorite book store. Or if you have a sibling who loves yoga and wellness, you could get them the yoga and wellness gear from Kanyoga. Gifts are a great way to show people that you care!
If you want to give them a nice gift but you don't know what to get them, you can try Kanyoga's rakhi hampers! They're designed so you can give your siblings a gift that they'll love and will remind them of how much you love them all year round! Choose from a wide range of hampers from Kanyoga. Kanyoga's exclusive rakhi hamper collection is liked by everyone and is one of the best options for gifting.
If you have a younger sister who is interested in yoga and wellness, she will most certainly enjoy a set of yoga and wellness gear because they will be very useful. Yoga gear such as neck wraps and eye masks are typically used to bring ease and make life more comfortable. A neck wrap can help you avoid stiff neck and soreness of your neck when you wake up in the morning or after a long day at work. The eye masks can help you get a good night's sleep. Yoga and wellness gear can be useful for you and your siblings. If your sister is a beginner, she will find these products   useful. Give your sister a present that she can enjoy and also be able to practice her favorite hobby at the same time!
May your lovely bond with each other continue to grow stronger with every passing year and may the bond of your love last forever. May you celebrate this Raksha Bandhan as happily as you celebrate each other.
Check out the  Kanyoga rakhi hampers:
King Rakhi Hamper:

https://bit.ly/3BqYsIF
Queen Rakhi Hamper:

https://bit.ly/3PW8fL6
Prince Rakhi Hamper:

https://bit.ly/3zEohUu
Princess Rakhi Hamper:

https://bit.ly/3JcBpmI