Give Yourself The Gift of Inner Self Reflection!
on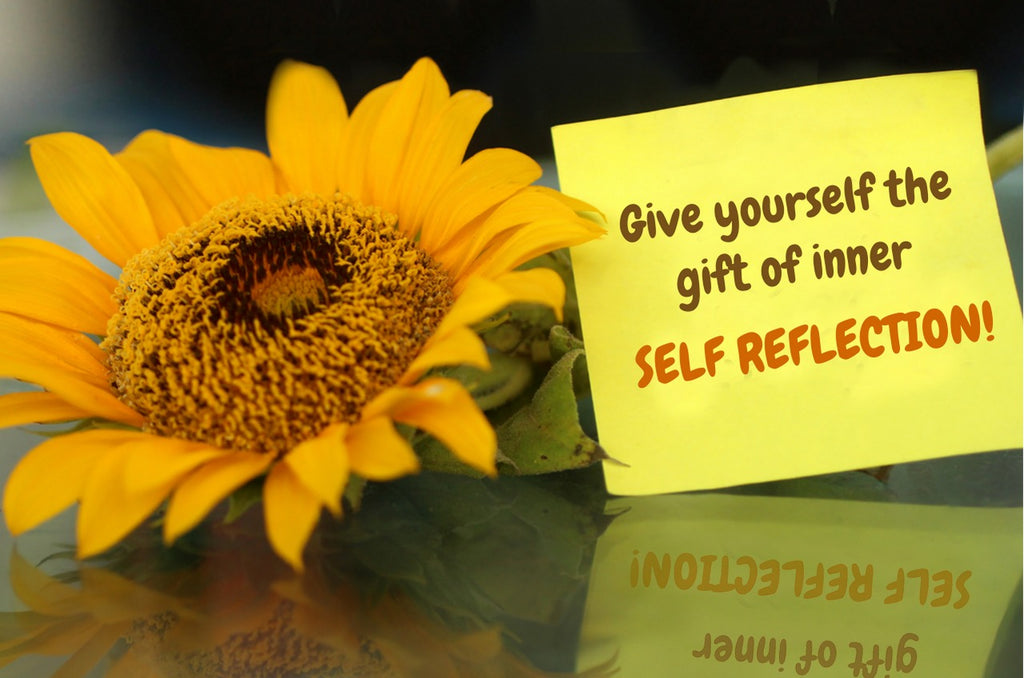 The journey into self-love and self-acceptance must begin with self-examination. Until you take the journey of self-reflection, it is almost impossible to grow or learn in life." – Iyanla Vanzant.
The true self is always grateful. Gratitude creates an environment of awareness. Awareness of ourselves and others around us, awareness of our blessings and also awareness of where we may have gone wrong and how we can make a decision to improve ourselves and reconcile with others as well. The act of being grateful is also good for our entire wellbeing, mind, body & soul!
Be flexible with your reflection practice if that suits your temperament better. This habit is portable and mobile, after all. You can reflect while you jog, power walk, cycle or skate...Some of us have our most innovative, creative visions, inspirations and even problem solving breakthroughs while we're moving outward in nature. 
Some Tips How You Can Better Practice Self Reflection:
Identifying some important questions daily
Let us introspect by practicing to ask oneself daily some questions in order to know oneself better! 
Some questions to help you make a good self-reflection are:
- What am I grateful for today?
- What am I doing in order to live a grateful life?
- Am I grateful for what I have or complain about what I don't have? 
- Am I grateful for my family, friends and the people whom I see everyday?
- Where am I not sensible or sensitive enough toward my dealings with others? 
- Am I hopeful for what lies ahead of me even if it is uncertain? 
These few questions can help you for assessment of your inner self to reflect and in turn learn to live a life of gratefulness everyday!
A gratitude journal is a diary of things for which one is grateful. One of the best ways to show thankfulness on a daily basis is by keeping a gratitude journal! Keeping a gratitude journal is easy, it involves making a note of the things that you are grateful for that day. You can decide how long your list is each day, and how much detail you want to add into it.
Start a collection of little grateful moments, and literally watch all the good things that you have piled up!
Meditation is gaining popularity due to its countless benefits. Just sit back, relax, and breathe where you are. Meditation can be done anytime, anywhere, and for any length of time. Whether you're exploring meditation for the first time or are a regular practitioner, it's important to stay flexible in your approach. 
Creating a practice that works for you is key, and you'll likely modify and adjust your practice to suit your evolving needs.
Perform Breathing Exercises
From simple to complex, breathing exercises allow you to steady your heart rate and help you calm down. This brings your mind to be still and to think more clearly. At the same time you can have a check on your personal inventory, such as your activities, encounters, thoughts, feelings, and motives. What did you do right today? Where could you have done better? Were your motives self-seeking? Do you owe anyone an apology? These questions will help you take a step back from the microscopic day-to-day happenings so you can examine your heart and conscience. 
Also, the areas of your life that need attention and unproductive habits will become clearer to you.
Set aside a specific time by the end of the weekend to look back at the week which is just ending. Did you enjoy a few personal victories at home or at work? Are there areas in which you feel you came up a bit short when you remember the goals you set for last week? What can you do differently, starting the next week, in order to help yourself have a more productive, loving, and empowering new week?
Don't forget to celebrate your successes at the end of each week. You'll feel happier, more centered and balanced, and eager to take on a new challenge next week.
After performing the self reflection actions above, setting specific goals to achieve them can greatly improve your progress. Visualise your goals which would help to make them a reality. 
Add inspirational fuel to the fire of your reflection practice by setting a weekly challenge for yourself. Choose something that's doable, but be sure it's an act that pushes your comfort zone and tests your resolve.
Final Thoughts
Self reflection can be a great way to improve your overall life. Take some time out daily to reflect on your day-to-day happenings, even the mundane things. This will help you to keep a check on how your heart is and also to know oneself better. This sense of knowing one true self will allow you to have better relationships and improve in your decision making in life.